Okie Dokie mates, I think I'm going to post some music videos. This gal arranges classic popular/rock. She plays her way. I personally think she is incredible. Also, take a look at her reviews on youtube. I will post more of her music. You should see her find a random public piano and draws a small crowd [posting some soon]. Please relax and listen, comments are welcome.
Chris Isaak/Stone Sour - Wicked Game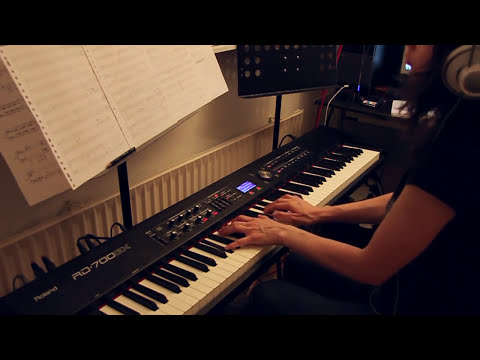 Listed here is the list of Vickys music I have posted in proper order on this thread so its easier for you to find. Please listen as she will surprise you with every performance.
Chris Isaak/Stone Sour - Wicked Game

Bohemian Rhapsody on Elton John's piano at St. Pancras Station - London

Radiohead - Creep

Fleetwood Mac - Landslide

The Doors - Riders On The Storm
Led Zeppelin - Stairway to heaven

Phil Collins - In The Air Tonight

Live at SynthFest - 01/13 - Funkadelic - Maggot Brain

Pink Floyd - Breathe

Guns N' Roses - Knocking on Heaven's Door

Lynyrd Skynyrd - Free Bird
Righteous Brothers - Unchained Melody

Queen - The Show Must Go On

The Sound of Silence

The Doors - The End

The Cranberries - Zombie

Pink Floyd - The Wall 1-3 / The Happiest Days of Our Lives

Live in Zurich - Metallica - Master of Puppets
Queen - We Are The Champions

Pink Floyd - Comfortably Numb

Motörhead - Ace of Spades

Tom Petty - Free Falling

Pink Floyd - Time

Pink Floyd - The Great Gig in the Sky

R.E.M. - Everybody Hurts

Led Zeppelin - Whole Lotta Love

The Rolling Stones - Sympathy for the devil

Guns N' Roses - Sweet Child o' Mine

Leonard Cohen - Hallelujah

Foreigner - I wanna know what love is

The Beatles - In My Life

The Beatles - Eleanor Rigby
Annie Lennox - Why

Bryan Adams - Heaven

Tears For Fears - Everybody Wants To Rule The World

Led Zeppelin - Babe I'm Gonna Leave You

AC/DC - Hells Bells

Thirty Seconds To Mars - The Kill (Bury Me)

U2 - With Or Without You

Meat Loaf - I'd Do Anything for Love (But I Won't Do That)

Journey - Don't Stop Believin'

Led Zeppelin - Tangerine
Kansas - Dust In The Wind
Muse - Hysteria
System Of A Down - Chop Suey!
Guns N' Roses - November Rain
​
Pink Floyd - Brain Damage
You have to listen to her arrangements. Vicky is extremely talented.
To be continued....